---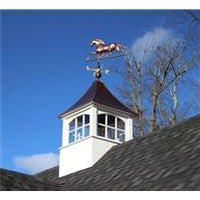 Horse Weathervane - Pure Copper by Good Directions
Head held high, this elegant thoroughbred is a common weathervane design from 1850. Now he's rearing to adorn the rooftop of your home, garage, cupola, barn or gazebo. For over 35 years Good Directions pure copper weathervanes have been unsurpassed in style, quality, and durability – perfect for the house-proud homeowner. Bring The Joy of Outdoor Living to your home with this heirloom-quality piece.
Easy-to-assemble and install. Includes an assembly rod, solid brass 18"L directionals and copper globes. A 401AL Roof Mount recommended, sold separately.

Assembled Size: 33" L x 36"H x 18"W; Figure-only: 33"L x 18"H x 4"W.
Our exclusive Single Point Contact? design allows our weathervanes to spin easily in the wind.
Lifetime Warranty.
The Pure Copper will age naturally over time.
This size weathervane is ideal for your home, garage, cupola, barn or gazebo.
Designed by American Artisans.
Shipping and handling included in price.
Weathervanes will be shipped from factory.